Uganda Iyo Ethiopia Oo Ka Wada Hadlay Arrimaha Somalia Iyo Mandaqada Booqasho Madaxweynaha Uganda Ku Tegey Addis-ababa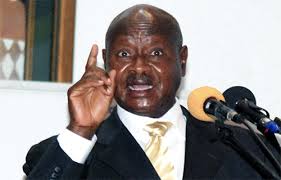 Addi's-Ababa(ANN)Madaxweynaha Dalka Uganda Youweri Museveni iyo wefdi uu hoggaaminayo oo ay weheliyaan xubno ka mid ah xukuumaddiisa iyo Haweenaydiisa Janet Kataaha Museveni oo booqasho sadex maalmood qaadatay dabayaaqadii todobaadkan ku tegey Xarunta Dalka Ethiopia ee Addis-Ababa, ayaa kulan la yeeshay Raysal Wasaaraha Ethiopia Hailemariam Desalegn, Wasiirka Arrimaha Dibedda Dr. Tedros Adhanom iyo masuuliyiin kale oo xukuumadda ka tirsan.
Madaxweynaha Uganda Youweri Museveni iyo wefdigiisa, waxa madaarka Caalamiga ah ee Bole International Airport, kusoo dhoweeyay Raysal Wasaaraha Ethiopia Hailemariam Desalegn, Wasiirkiisa Arrimaha Dibedda Dr.Tedros Adhanom iyo saraakiil sare oo xukuumadda Ethiopia ah.
Kulanka Labada hoggaamiye oo ahaa Albaabada loo xidhay , ayaa lagaga hadlay xaalada Somalia ee xiligan, arrimaha mandaqada ee Amaanka, ganacsiga iyo is dhexgalka bulshada labada dal, waxaana kulankaa ka dib Labada hoggaamiye oo waraabhinta si wada jir ah ula hadlay sheegeen in arrimaha ay ka wada hadleen ay ka mid yihiin oo ay hoosta ka xariiqeen is kaashiga arrimaha nabadgelyada, dhaqaalaha iyo mashruuca dhinaca hydro power-ka ee loo gaadhsiin lahaa Kampala, kaas oo ah mashruuca ugu weyn ee Ethiopia doonayso inay ka iibiso wadamo baddan oo Uganda ka mid tahay.
Sidoo kale waxa lagu sheegay warbaahinta Dawlada Ethiopia oo kulanka labada hoggaamiye iyo ujeedada booqashada Madaxweynaha Uganda Youweri Museveni lagu sheegay inay qayb ka tahay sidii labada isaga kaashan lahaayeen, isla markaana xidhiidhka labada dal iyo taariikhda ay wadaagaan dib u habayn loogu samayn lahaa, iyadoo la mataanaynayo arrimaha magaalooyinka, isgaadhiisnta Energy-ga, Caafimaadka, Ganacsiga, Sibidha iyo magaalooyinka Addis-ababa iyo Kampala, isla markaana iskaashi uga yeelan lahaayeen arrimaha caalamiga ah iyo kuwa mandaqada.
Raysal Wasaaraha Ethiopia Ethiopia Hailemariam, ayaa sheegay in Biyaha Webiga Nile ay yihiin Basin in laga faa'idaystona ay si cad isugu taagtay Uganda, wuxuu xusay in Madaxweynaha Uganda uu hoggaaminayo mawduuca Biyaha Nile, isla markaana uu saxeexay heshiiska iskaashiga oo ah in laga wada faa'idaysto,wuxuuna hoosta ka xariiqay in labada shacbi iyo labada dal ee Uganda iyo Ethiopia wadaagaan dhaqan iyo luqad. Sidaa awgeed Webiga Basinka ah iyo Dooxada Great Rift Valley ka wada faa'idaysnayaan oo si siman loo qaybsanayo Biyaha Nile-ka.
Labada Hoogaamiye waxa kale oo ay ka wada hadleen arrimaha nabada ee Somalia iyo South Sudan iyo sidoo kale mashruuc la doonayo in ay Uganda iyo Ethiopia uga faa'idaystaan dalxiiska iyo badeecaddaha oo la doonayo in magaalada xeebta ah ee Mambassa la mariyo dhuumo shidaalka South Sudan laga dhoofinayo la mariyo iyo marka hore la meel mariyo qorshe dawlada Kenya iyo wadamada gobolku wadeen oo la doonayay in wadooyin waaweyn oo isku xidha Jubba Kampala, Addis-ababa iyo Nairobi la hirgeliyo xeebta dalka Kenya ee Mombassa.
Madaxweynaha Uganda Museveni oo ay weheliyeen Xubno ka mid ah Xukuumaddiisa iyo Haweenaydiida Marwada Koowaad Janet Museveni, waxay ka hor aanay Aaxadii ku laaban Uganda booqdeen mashruuca Metals and Engineering Corporation (METEC) oo xaruntiisu tahay magaalada Bishoftu ee deegaanka Oromia ee Ethiopia, sidoo kale waxay booqdeen mashruuca lagu the Gilgel Gibe III hydroelectric oo uu ka socdo mashruuca Dhaamka Biyaha Nileka ee laga dhaliyay dabka iyo sidoo kale Arba Minch oo ah magaalo ay leeyihiin Qowmiyahada Southern Nations.
Madaxweyne Museveni iyo wefdigiisa oo booqday deegaankaa Arba Minch, ayaa uga mahad celiyay dadka Gamo Gofa sida ay usoo dhoweeyeen, wuxuuna sheegay inay dadka Koonfurta Ethiopia iyo dadka Uganda wadaagaan waxbadan sida Luqada, dhaqanka, Ciyaaraha iyo juquraafiga. Sidaa awgeed ay ka go'antahay in labada dal iyo dadkoodu wadaagaan wax baddan oo ay iska kaashadaan dhinacyada dhaqaalaha, ganacsiga, is dhexgalka iyo arrimaha muhuumka ah ee qadiyada mandaqada iyo amaanka.
Araweelo News Network
Somaliland Office
info@araweelonews.com
jaamac132@gmail.com